I have had spiritual events since I contracted this disease as you have read in my previous
posts
.
I received this today and I have to say, for me there is something to this spiritual thing. I have often related to the horror of suffering to Job and his trials. I, having met God through my suffering, can no more deny Him then Job could, no matter what darkness is thrown at me. There is a lot I can relate to in the following article and I am sure you may be able to, too!
[BLOCKQUOTE]
FROM THE MOUNTAIN PROPHECIES
BOOK TWELVE
Chapter Fifty-Nine
"A New Set of Laws; and My Laws are in Him!"
Come unto Me, My Blessed Child; for My arms are outstretched wide to you and My heart is overflowing with love towards you and My Little Son, who lives in you!
My Blessed Child, I am setting you up high on My olive branch; for from this perspective I shall cause you to see far and wide! For, I shall soon give you new eyes, new ears, and a new power, which is unlike anything that you have ever seen! And, I shall put into your mouth as word of fire; and into your hands a sword of fire; and through this fire, I shall wreak havoc on the enemy!
My Blessed Child, eat from My hands what I now feed you, and drink from this cup what I now give you to drink, for a day of great reckoning is at hand! It is a time wherein I will raise up My Two Witnesses, and a time wherein I will also raise up a few Joshua's and a few Elijah's.
Blessed are you, My Beloved Child, for even as My Chosen One, Moses, was called and was sent down with My law, with My Ten Commandments, I have likewise called you, have chosen you to come forward, even unto Me, and to bring forward a set of new laws and commandments, which will go out through My man child, which you have born into the earth; and whom you are now birthing into the earth!
Yes,My Little one, My work through the little man child, through My very own Son, will bring into the Earth a new set of laws! For, He is the birthing of My Kingdom Come and My Will Be Done in the Earth! And, heis My new set of laws and My laws are in him! And, it is through him that I shall bring forth My New Covenant with My people, that through this Covenant, each is the living law, the law manifest; for I AM THE LAW AND THE LAW IS ME!
My Little One, this is My Kingdom Power, and I am the basis of this Kingdom Power, a power, which is built upon truth, honesty, integrity,love, compassion, faith, and honor, among other divine attributes. But,the basis of this law, My Little One, is My pure love! And, none will walk in this new power if they will not love Me above all, and truly love others, even as they love themselves! For, this power comes to each one through My Little Son, the Man child of Revelation Chapter Twelve!
It is time,My Blessed Child! It is time for him to return to My throne! It is time for him to go out into My faithful, to take up residence in them! When this takes place, I will begin to rise up My Supernatural Army in and through these!
It is time for My Little Son to come back to My throne! Yes, My Little One,you have waited a very long time! And, you have suffered great and unspeakable tortures and persecutions! And, I have watched! I have looked! I have weighed many things; and I have tarried for a season,but My promise to you is that the time (to take My son home) is truly now at hand! For, I have set the stage! I have moved many pieces of the puzzle into place. I am busy preparing the Two Witnesses, for theseshall soon appear and they will shock the world. For, I shall bring them forth in a way and in a place, wherein many shall be shocked! But,even so, I shall bring them forth!
My Little One, you see great and marvelous things taking place around you regarding My Little Son, and you are amazed at My handiwork in My Son;and rightly so! For, I have prepared Him for such times as these!
My Blessed Child, My Little Son will help many, who are sick and dying from all manner of diseases, but he will set free especially many, who have the Morgellons Implant Disease! Yes, it is an implant disease, one in which Satan and his many hoards have viciously implanted the bodies of many with foreign substances, the purpose being to siphon off their light, and to override their electrical (neurological) systems until they are either mind controlled slaves, or dead! They really do not care, but delight in all of the suffering, which they have inflicted upon these unsuspecting souls!
My Little One, you know the work of My son, that he is able to clean remove all such implants from the bodies of these Morgellons sufferers.And, I have brought him up amidst the most horrendous of implant technologies! Never has a living soul suffered what you have suffered,not any of the Morgellons sufferers, not anyone, not another living soul!
I have brought up My Little Son in you, amidst the most horrendous of conditions,beneath the feet of Satan and all of his hoards! And, I have done soall in order to make him ready to go into My Bride, My Supernatural Army, and to equip them for these most horrendous wars, which involve these most terrible of implants and implant diseases! For, these implant diseases are now rampant and are going to increase in an exponential way! You will see this in the world, when these creatures come up out of the earth and sting the people for five months! (Rev9:10) As you well suspect, they will sting them by driving fibers and other implantable objects into their skin and tissues! Almost overnight, the implant diseases will skyrocket, and escalate to pandemic proportions, and many will not know at all what has caused such pain, such red whelps, and such stinging!
Therefore,My Little One, as this is already going on and there are no cures for these implant diseases, except for My cure through My Little Son, the man child of Revelation Chapter Twelve, I will most assuredly take him to My throne very, very soon; and I will also call all, who are deemed ready and worthy; and I will impart My Little Son into these, who will them become the Manifest Sons of God!
MyLittle One, these Sons will then become your seed, as mentioned in Revelation Chapter Twelve, verse seventeen! And, Satan, on seeing them,will make war against them!
InMy army, There will be many ranks, and not all will walk in the same power! For, in some the man child will be of great power and in others,he will be of small power! Those, who walk in great power, will do great and marvelous works and will exhibit much of My power, the most powerful of these being the Two Witnesses! But, others among them will also walk in much power and will manifest many miracles, many healings and many deliverance's in My Name!
But,others (among My army) will struggle greatly; for they will be severely tortured by Satan, even as you have been severely targeted and they will be greatly troubled; for they will have little power and Satan, onseeing this, will trouble them greatly! But, it is important that each remembers what you have taught them: to be grateful for all things, to praise Me and thank Me for all things, and to seek My perfect will in all things, lest bitterness set in and defeat should rear its ugly head!
My Little One,you have shown them by example; for I have put My perfect example in you, that is long suffering, patience, trust and faith in Me, a loving heart and kindness towards others, to daily die to self and things of the world! And, these are not all, but of most importance are these basic attributes and concepts in surviving and doing well, even in captivity under the feet of Satan and all of his hoards! For, you, My Little One, have surely been in prison and in a very terrible prison for too many years.
And,you ask, "My Lord, considering that it has been Your will for me to be in prison for these years, how is it too many years?" And, My answer to you is this: "It has been too many years, My Little One, for your time of suffering has been extended! I have tarried and delayed because too many have not made themselves ready!" But, I warn you now; and I warn all now, that I am coming! This time of tarrying and delaying is running out! I will take whom I will take, but great and severe shall be the disappointment in the hearts of My people! For they believe that they are clean and are not clean! They say that they love Me, but do not obey Me! They say that they love others, but do not love others!Therefore, My Little One, many, many will be shocked at what I about to do and how I am going to do it! For, in this situation, many of the last shall be first and many of the first shall be last!
I am a God of My word, My Little One! I have forewarned that I would tarry, and I have tarried for many, many months! But, I tell you now and believe and receive it, that all that you long for is yours in just an instant of time! The heritage of My son, he is now embracing; and your very heritage, My Little One, is now on your plate! Likewise, all,who are clean, whose hearts are pure before Me, also have their heritage before them, even on their plates; and in an instant of time,this heritage for all, who are pure of heart, shall be realized!
Let the wise get more wise! The clean, even more clean! The faithful even more faithful! The loving, even more loving! For, at this late hour, I am extending an abundance of My love, My mercy, and My grace to all,who have made themselves ready; and to all late comers, who are still struggling with a few issues!
Go in peace, My Little One; for I tell you the truth! Rejoice! For, all that you long for, all that you wait for, is only an instant away!
I am your Father Yahweh, yea Jehovah, Most High God!
As witnessed, dictated and recorded this 11th day of October, 2009,
Linda Newkirk
---
LINDA NEWKIRK
P.O. Box 17277
North Little Rock, AR, 72117
USA

Website:

http://www.prophecies.org (From The Mountain Prophecies)

[email=lnewkirk_46@msn.com?Subject=From%20Your%20Web%20Site][SIZE=150]CLICK To E-Mail:
Linda Newkirk
lnewkirk_46@msn.com[/email][/SIZE]
"When you pray, go to your inner room, close the door, and pray to your Father in secret. Your Father, who sees in secret, will answer you." Matthew 6:6
KING JAMES VERSION OF THE BIBLE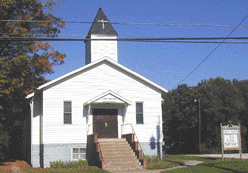 MY PRAYER CIRCLE: Go to prayer request url below. I have a circle of friends and family who will pray for your concerns.
Prayer Request